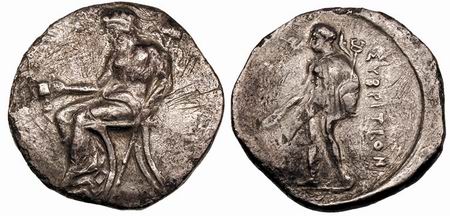 Coins of Ancient SivrytosSivrytos (Sibryta) is an ancient town built on the hill Kefala near the villages Thronos and Agia Fotini at province Amari. It was founded during the Dark Age of Crete, after the destruction of the Minoan civilization (1200BC), when the desperate Minoans founded cities in the most inhospitable and inaccessible peaks of the Cretan mountains, but flourished mainly in the Greco-Roman times.
The city was fortified and Soulia was its harbor, i.e. the current seaside resort of Agia Galini. The city was watered from distance with a great aqueduct. The excavations have brought to light parts of the acropolis, houses with mosaic floors, pottery, figurines and metal objects, while at lower levels we can visit the necropolis.
It belongs to the towns of Crete that minted coins. The coins had on one side the figure of Dionysus, Hermes and Zeus and the Greek word ΣΙΒΡΥΤΙΩΝ (Sivrytians) on the other side.