The island of Icarus and Daedalus is home to several companies and clubs that organize contests or offer lessons and equipment for air sports.
Crete is full of steep slopes, ideal for mountain sports associated with the wind, such as paragliding or paramotor. The area of Avdou by Hersonissos is one of the most popular paragliding spots.
All major airports of Crete house certified air-sport clubs that provide seminars and small aircrafts to rent. There are also many clubs for aircraft modeling that organize astonishing demonstrations.
For extreme athletes, there are various skydiving schools with experienced instructors. The schools operate at some airports of the island, such as Timbaki.
Children categories
Paragliding is a form of unpowered flight in which rising air is needed to keep the glider aloft. This rising air can come from two sources:
when the sun heats features on the ground, columns of rising air known as thermals are generated
when wind encounters a ridge in the landscape, the air is forced upwards, providing ridge lift.
In mountainous environments, flying is mostly based around thermals, which can be used to stay aloft before heading for a landing field below the launch site. In hill environments, ridge lift is used for ridge soaring, and landing can be done either back at the launch site, or at a landing field at the bottom of the ridge. In either case, more experienced pilots can use thermals to cover big distances, known as cross country. Tandem paragliding flights involve a candidate student or a passenger, being securely strapped into a comfortable flying harness positioned in front of the pilot and connected to the pilot and the glider. The tandem glider is specially designed to carry two people and is nearly twice the size of a regular solo paraglider.
[widgetkit id=2340]
There are several sites that one can find tandem paragliding flights in Crete, with the most common being:
Falasarna Beach – Balos Lagoon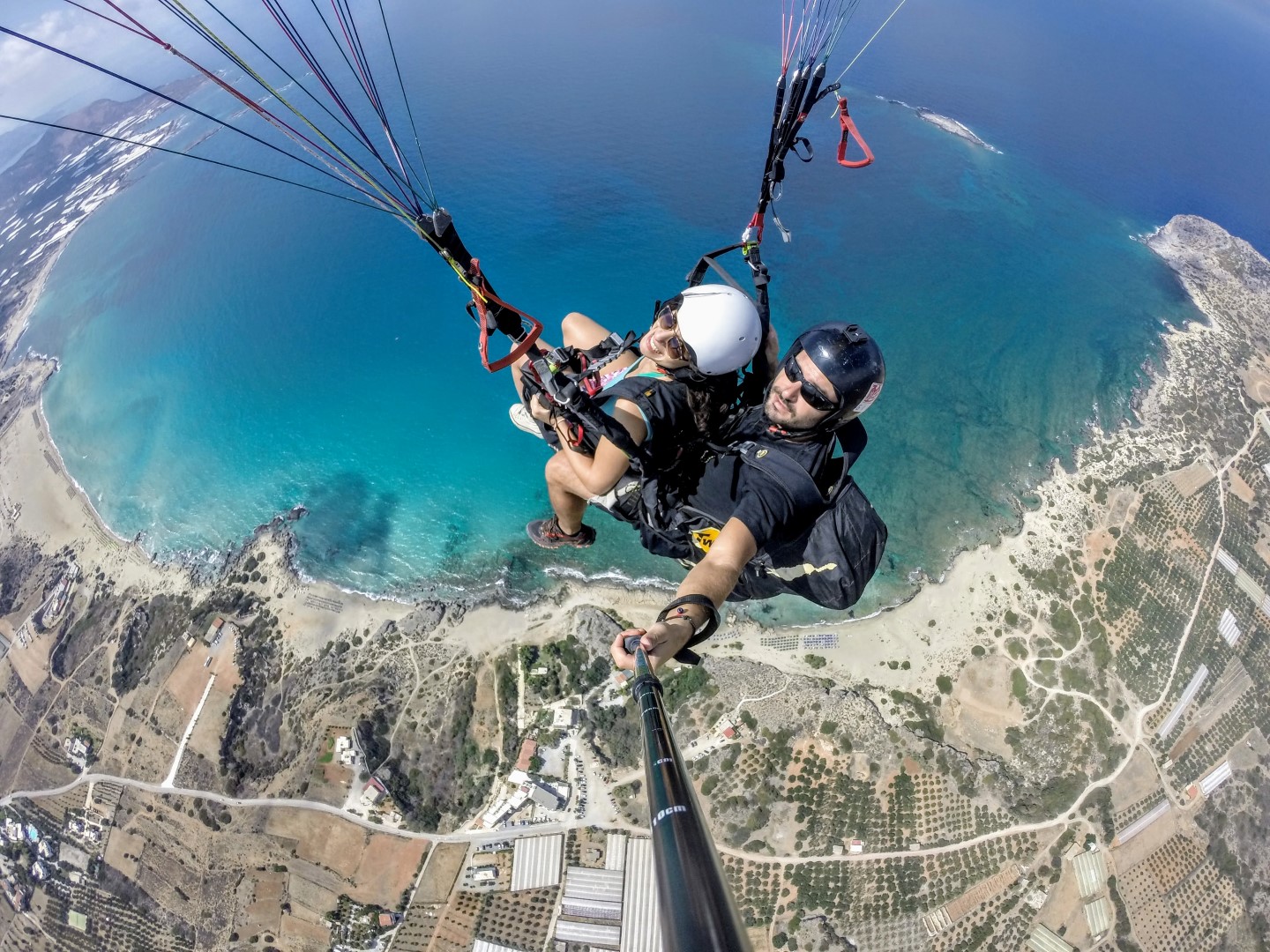 Falasarna is one of the most famous beach in Europe. It's a must to visit once you arrive on Crete. And there is nothing better to combine it with a tandem paragliding flight. Visitors take off from a hill 250m with the incredible view of that place, and land on the beach, where the wave stops! From this spot if weather is suitable, one can reach the world famous Balos beach and reach an altitude of 800 m, next to the vertical rocky cliffs of Geroskinos range. The tour usully lasts almost an hour, and the view will be in one's mind for ever.
Heraklion – Avdou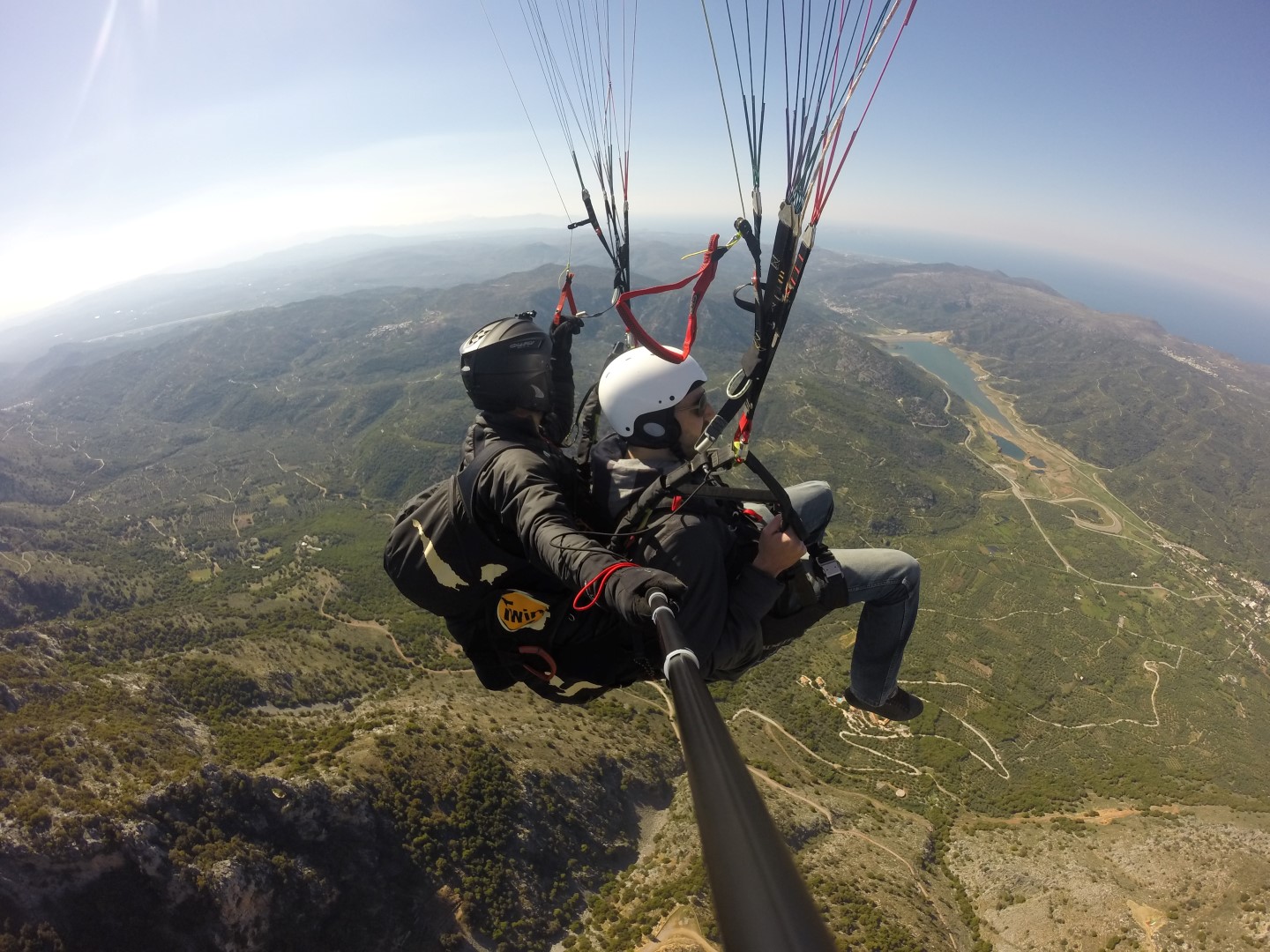 Avdou is world famous flying spot. A region with its own climate, flyable almost the whole year. Great altitudes can reached from here, and flying with vultures is a daily phenomenon. This is a flying spot, mostly for those who want to try a tandem paragliding flight and stay in Heraklion, Hersonissos, Malia, and the surround region. View is stunning from the very beginning, with the beautiful artificial lake Aposelemis underneath. Some days the participants gain altitude greater than 1200 m, that is very often on that spot, and one can see the cities of Heraklion, Hersonissos, Malia, and all the north coast line of the region. And the very best days, with clear atmosphere, one can see Santorini as well.
Chania – Varipetro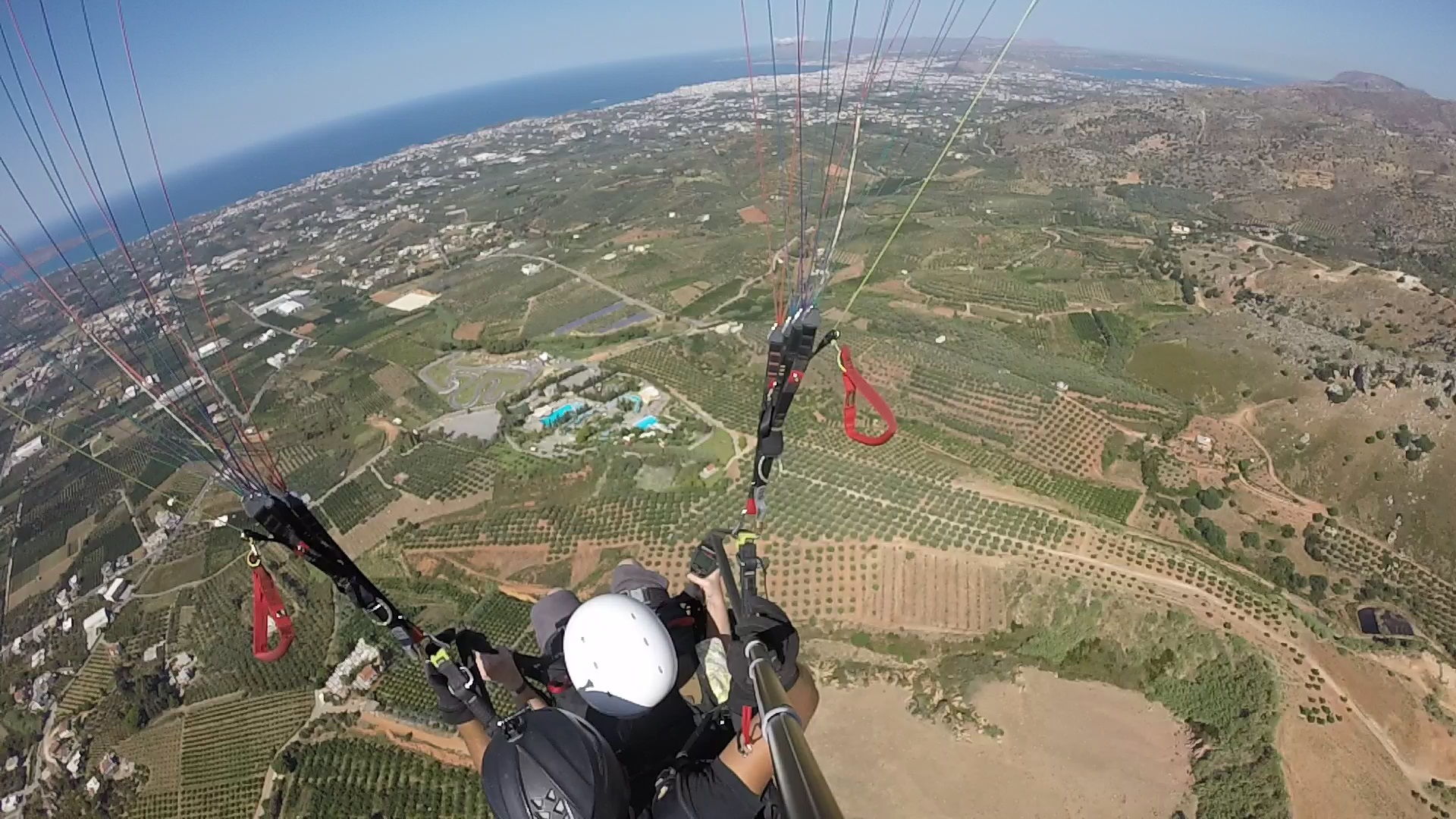 Varipetro is a mountainous area very close to Chania and is usually used by paragliding schools for the first flights; a mainland mountain with height almost 500m.  From there one has incredible views of the entire north coast line, Chania city, Souda bay, and the small Ayia lake. Some days thermal currents allow flights above altitudes of 1000m. North winds are required for a flight from Varipetro.
For more information about places and booking flights, visit www.exploreparagliding.gr
View items...