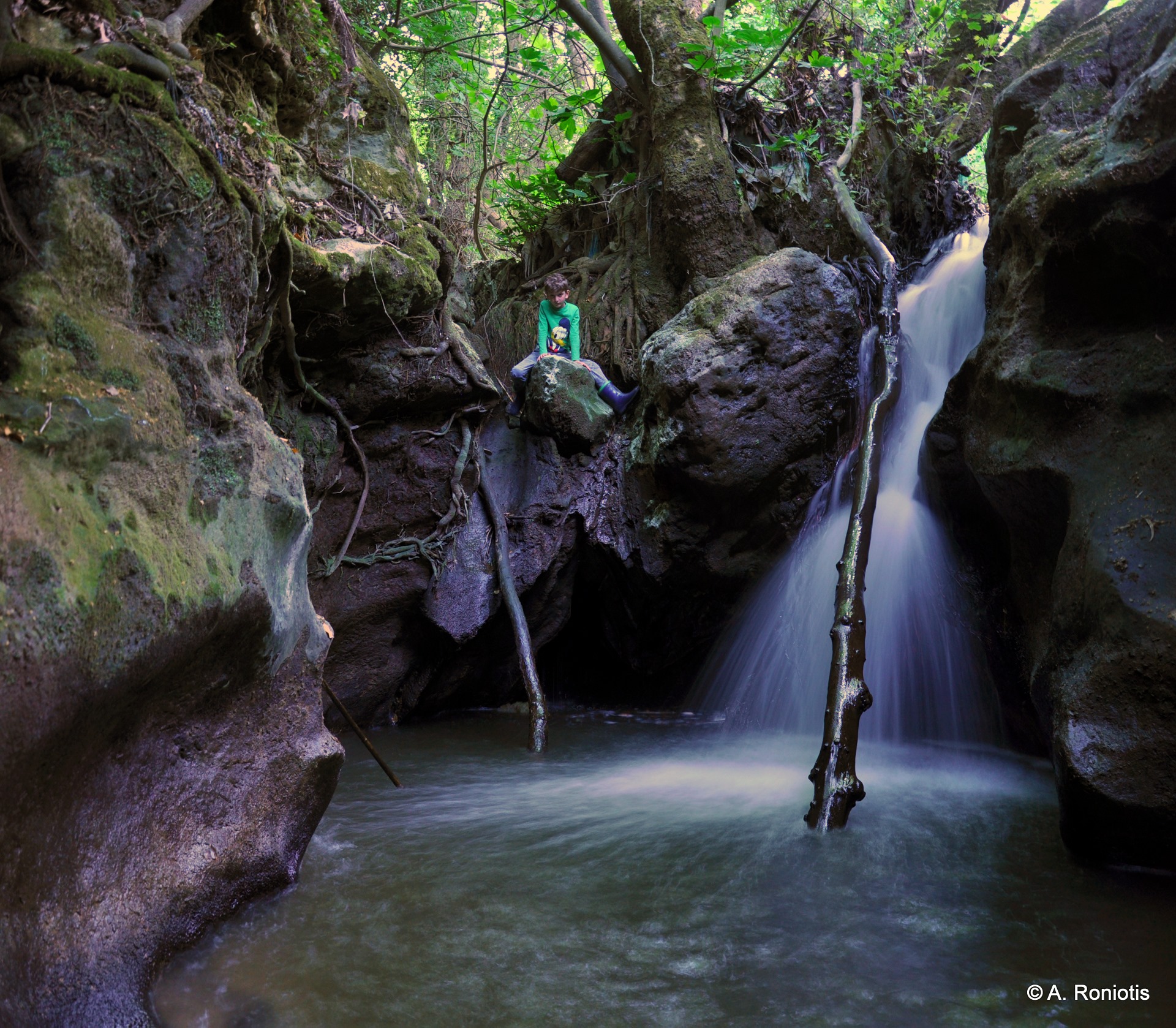 Lefteris posing at Karydaki waterfallThe Gorge Knossano collects water from the valley of Archanes, formed at the eastern slopes of Mount Giouchtas and, through the river Keratos, empties in the port of Heraklion at the suburb Katsambas. It derives its name from Knossos, from where it passes, and is also known as the Gorge of Agia Irini from the village Agia Irini. Walking along the entire stream is not possible due to the dense vegetation and lack of trails, but the visitor can visit parts of it and bypass the wooded areas. The diversity of flora species in the area is relatively small, due to the presence of shading from the dominant species, such as the plane.
The stream first starts as an open valley from the area of Saint Mamas church in Apano Archanes and then crosses Kato Millos, where there are still traces of an old watermill. From there, the flat soily valley gives way to the soft limestone rock and the stream turns abruptly into a narrow canyon with high rocks and beautiful rock shelters. This canyon has been the main feeder of the colossal Morosini Aqueduct. This part is called Archaniotiko Gorge and is the most impressive point of the whole stream; the asphalt road that leads to the village of Syllamos runs along the riverbed.
The gorge then passes through the area of ​​Myristi, where a small waterfall (4m) and the Archanes biological wastewater treatment station are located and continues to the Karydaki bridge and the ruined monastery of Panagia Kardiotissa, which still stands out among tall cypresses. Inside the canyon river and a few meters south of the bridge, a unique waterfall of about 4m is formed, with water flowing almost all year round. From here on the gorge widens and the course through the canyon bed is almost impossible due to dense vegetation; one can follow dirt roads that run parallel to it. The canyon continues to the great aqueduct of Agia Irini at Spilia, after which we meet the ruins of many watermills, and another beautiful waterfall. The river soon meets an open fertile valley, crosses the archaeological site of Knossos and ends in the port of Heraklion.