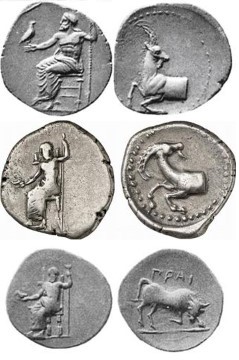 Coins of PraesusPraesus (or Pressos) was built on three hills located about 13km south of Sitia and 2km from the village Vaveli, currently named Nea Pressos. The city was founded by the Eteocretans (= genuine Cretans), who abandoned the Minoan towns and found refuge in the inaccessible areas of Crete after the Dorian invasion (1100BC). It was served by two ports, one in Sitia region (Etea) and one on the south coast (Stales).
The Eteocretans initially conserved their Minoan tradition, language and religion. Indeed, the archaeologists have identified Minoan language inscriptions with Greek characters, which are very important for deciphering the Minoan language. However, they also adopted a democratic constitution, following the status of the Dorian cities.
All three hills were used as citadels. Its highest citadel was fortified by a wall, while there were traces of an impressive mansion. On another hill an altar was found and many objects (weapons, figurines) used in sacrifices and rituals. In Praesus a tomb of an athlete was found, along with prizes that he probably won in the Panathenaic Games.
Praesus was one of the strongest cities in Crete and minted its own currency with many different representations (Hercules, Zeus, Apollo, Demeter, etc). It had come into conflict with Itanos and Ierapytna, in order to control the temple of Zeus in Palekastro and the island Koufonissi. Eventually, Ierapytna destroyed Praesus in 155BC and its residents fled to the port of Etea, where they founded New Praesus.
The first excavations were carried out in 1880s by the Italian archaeologists Halbherr and Mariani. Today, the visitor can visit a vast archaeological site with early Christian churches, ancient temples, walls, etc.