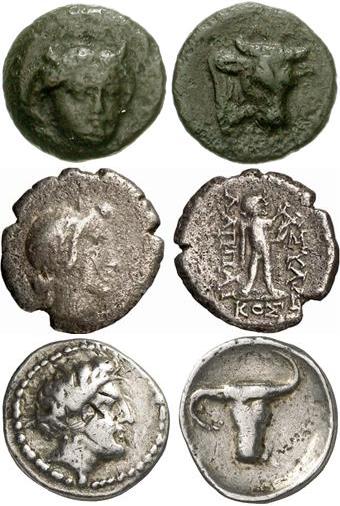 Coins from LappaAncient Lappa was built near the current town of Argyroupolis, located 27km south of Rethymno. The area is now famous for its springs with waterfalls, its old mills and the lush green landscape that attracts thousands of visitors each year. Lappa, later Lappi or Lambi, is one of the towns said to have been founded by Agamemnon in Crete. In Lapa fled the citizens of Lyttos after the massacre of Lyttos by Knossos. In 193 BC Lappa became ally with Teos and in 183BC with Pergamon.
The city flourished till 68AD, when the Roman general Quintus Caecilius Metellus destroyed it. It recovered as a Roman town with special privileges at the end of Roman Era. It s glory is mirrored in the magnificent monuments that have been found and the coins minted. In the area, Roman baths and basilicas with mosaics have been identified, inscriptions and statues of Zeus, Aphrodite and Dionysus. It also seems that the Cave of Agia Dynami played an important role, with the very important spring that gushes through the rock.
Moreover, next to the village there is the temple of the Five Virgins (Thekla, Marianna, Ethane, Martha and Mary), who are believed to have died there. Next to it lies the Roman necropolis with carved tombs, in a green area with a water spring and a plane tree that has been designated a natural monument.
After the arrival of the Arabs in Crete, the town and the Diocese founded by Apostle Titus were destroyed. During the Venetian period, the city passed from the hands of Hortatsis family to Alexios Kallergis. Then it again thrived, which is strongly reflected to the splendid Venetian buildings of the village. The Turks called the town Gaidouropoli (i.e. Donkey Town) till 1822, when the rebels renamed it Argyroupolis. In Argyroupolis took place the General Assembly of Crete in 1867 and 1878, the year that Cretans declared the Union of Crete with Greece and the attempt failed.