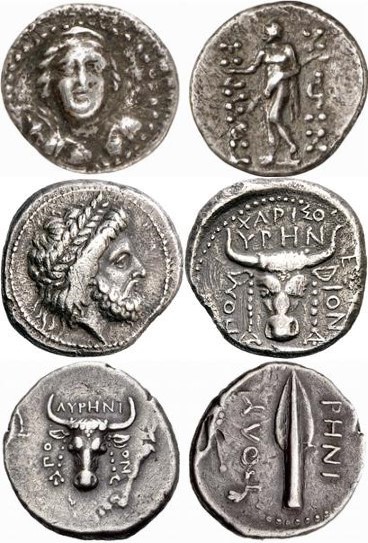 Coins of ancient PoliriniaThe ruins of the ancient city Polirinia are located on a steep hill overlooking the North Cretan Sea. The city was probably founded by the Achaeans in around 1100BC and flourished during the Roman period, being the most important town in West Crete. The ports of Polirinia were Phalassarna and Kissamos. It developed close trade relations with Sparta, Milos, Rhodes, Thiva, the coasts of Ionia (Asia Minor) and Egypt. Apart from trade, the town was apparently famous for livestock, as the name comes from the words "polla rinia" which means many lambs.
The city responded positively to the Roman invasion and therefore was not destroyed by the Roman invasion, like other cities of Crete. Instead it allied and managed to defeat the most powerful city of western Crete, Kydonia, and get the control of the sanctuary of Diktynna at peninsula Spatha.
The city coins depict a voukranio i.e. bull's head, and Jupiter. At the top of the hill, stood another temple of the goddess Artemis or Diktinna, which was destroyed in 1894 to build the temple of the Holy Fathers (with embedded materials from the sanctuary). Today the visitors can see part of the strong city walls dating from the Byzantine period, a Hellenistic tower, the aqueduct and a temple.
Even today Greeks use the phrase Cretan Sacrifices when referring to unfinished desires - purposes. This phrase has stayed by the story of Agamemnon and Polirinia:. When the winner of the Trojan War, Agamemnon returned to his home, he anchored on Nopigia beach to offer sacrifice to the gods of Polirinia. However, the prisoners on board set fires and he had to leave hurriedly, without meeting the sacrifice.