Ancient Eleftherna is located 25km southeast of Rethymno and relatively close to the Monastery of Arkadi. The town is the most important archaeological site in the prefecture of Rethymno, which has not fully been excavated and it is expected to give archaeologists many more discoveries. The first organized excavations here started in 1985 by the University of Crete.
The town of Eleftherna was founded by the Dorians around the 9th century BC and was inhabited up to the early Byzantine years. To this long course contributed its strategic location at an altitude of 380m, crossed by the roads that connected the ancient Kydonia, Knossos and Ida Mount. The findings so far have been found in three different positions of the same hill.
Eleftherna was one of the towns that were on the side of Macedonia against Knossos during the first Cretan War (205BC-200BC). During the occupation of Crete by the Romans, the town managed to resist strongly against the Roman general Quintus Caecilius Metellus, until it fell by treachery. During the Roman period the city continued to flourish and baths, huge cisterns, villas, public buildings and towers were erected. The Byzantine era was the last time for the city before getting destroyed by the Arabs, when it became a Diocese and the great basilica, remains of which survive today, was built. The importance of Eleftherna as an archaeological site led to the decision for founding a museum above the site, the imposing Archaeological Museum of Eleftherna.
The necropolis of Orthi Petra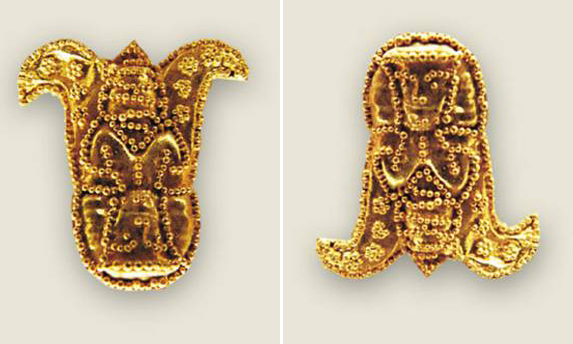 Bee and Flower jewel found in Orthi Petra At Orthi Petra position a necropolis has been found, which became the most important part of Eleftherna, with many findings (and still gets excavated). Here the archaeologists found the "tomb of warriors" with 480 vases, weapons and the trench of the warriors killed during battle.
In 2010 archaeologists came across one of the most important discoveries, when they found one unlooted tomb of 700BC. The tomb was a huge lying jar, which's entrance was barred by one 800kg boulder. Inside the jar there were the bones of a young couple, probably siblings. The couple was covered with a gold cap, consisting of 3000 gold sheets of different shapes!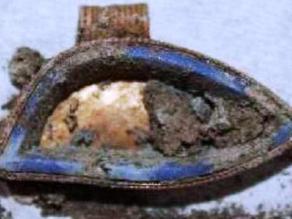 Tutankhamun's Eye Another salient finding of the tomb was the gold jewelry worn by the girl, which depicts a bee. The jewel is the first representation of bee as a goddess in Crete. But the amazing thing about it is that if someone turns the currency vice versa, then the bee disappears and a beautiful lily takes its place! Finally, in another jar, archaeologists made a surprising discovery. Among the bones, they found a golden real-size eye. They named it Tutankhamun's eye, as it is identical with that in the funerary mask of the King of Egypt.