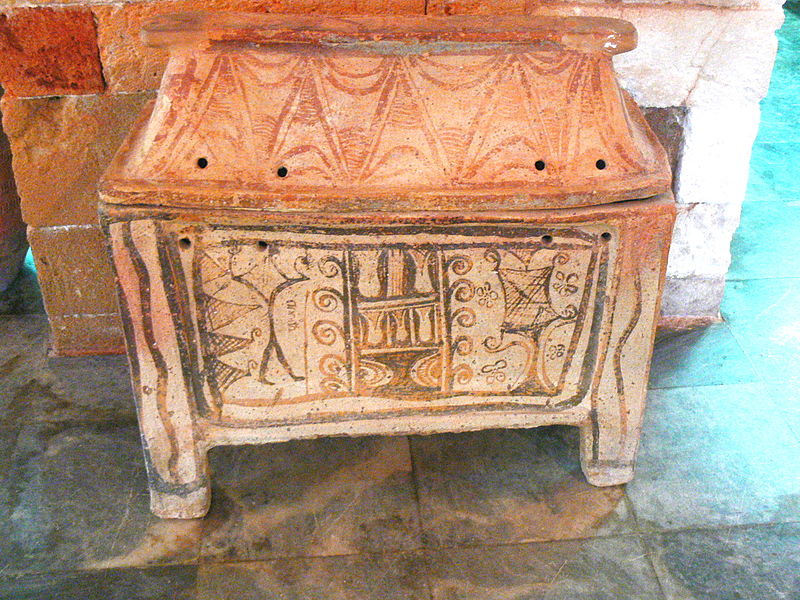 Sarcophagus from Armeni, Archaeological Museum of ChaniaThe Minoan necropolis of Armeni is situated 9km south of the town of Rethymnon, on the main road which leads to the south coast of Crete. The greatest Late Minoan III A-B (c. 1400-1200 BC) cemetery was discovered on a shallow hill called Prinokefalo, which means "hild of the wild oaks".
Systematic excavations started in 1969 and 231, including one tholos (domed grave), have been uncovered up to 2012. The main characteristic of the Armeni necropolis is that initially there was an overall plan for the cemetery, which included special areas designated for the wealthy noblemen and the poor ones. However, this plan was abandoned during the Late Minoan III B Period (1300-1200 BC) and resulted in a mixture of large and small tombs throughout the cemetery.
All the tombs were dug into the rock, and each one consists of a corridor and a chamber. The corridor is composed either of a staircase or a ramp. Some of the tombs were left incomplete, as there is only a corridor and no chamber for burial. The richer tombs possessed tombstones of different sizes, eleven of which were found out of their initial location.
Each tomb would probably represent a family group. According to the osteological (bone) analysis the average age at death for the adult males and females was approximately 31 and 28 years, respectively. Most of the female deaths occurred between the ages of 20 and 25, probably a result of the dangers associated with childbirth. The chemical analysis of bones showed that the people buried at Armeni had no marine food in their diets, but in general they ate a fair amount of animal protein and plants. They suffered from a range of infectious and nutritional / metabolic diseases, as well as from dental caries.
The main finds in the tombs were clay larnakes, fine decorated pottery, bronze arms, utensils and ornaments, as well as sealstones and necklaces from semiprecious stones. Among the most important finds are a boars' tusk helmet, a basket made of reeds and decorated with small bronze pins, a steatite pendant with a Linear A and a stirrup jar with a Linear B script (mentioning the name wi-na-jo).