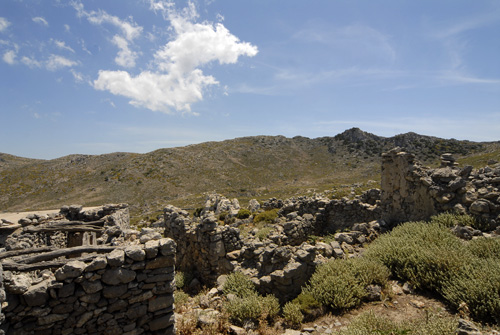 A small castle was located near the village Sitanos in Sitia province, namely Skalia. Skalia was a small village with a few residents built atop a mountain slope, where the outer walls of the houses formed a wall that surrounded the village, while from the north it was protected by cliffs.
The residents of Skalia did usually act against the Turks. Thus, in the middle of the 18th century, the Sultan decided to exterminate them. 2000 Turks were landed at Kato Zakros, guided by a local, recruited by force, and started trekking towards Skalia. However, at night, they stopped to sleep in the area "Mavra Homata". Then, the Greek guide took the opportunity to run and inform Skalians. Indeed, the Skalians ran to the Turkish camp before dawn and massacred all of them.

The Turks later managed to trap them, with the help of a traitor priest, called Drakos, from Ziros. He called the 70 Skalians to the church of Agia Paraskevi and asked them to leave their weapons outside the Church. The Turks then entered the church and massacred all of them, except one, Skaliotogiannis, who ran away.
Today Skalia village is abandoned (only the church of St. George and one house are standing), but the visitor can still discern the walls of the village - castle. Moreover, every year, during the feast of Agia Paraskevi in Ziros, the soldiers are commemorated.