Aptera is one of the most important archaeological sites in West Crete. The ancient city of Aptera was founded in the 8th century BC in a panoramic position that controlled Souda Bay and flourished in the Hellenistic period. It was abandoned in the Arab years, when it was destroyed by the pirates. The city was served by the ports at Marathi and Kalives. These great ports made Aptera one of the most important commercial centers of Crete, if not the greatest.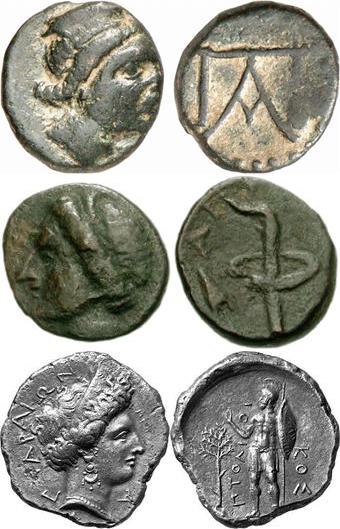 Coins from Aptera According to tradition, it got its name from the Sirens who lost their wings after losing in a musical contest against muses, so they stayed wingless (aptera in Greek). However, it apparently got its name from Aptera Artemis (wingless Artemis) that was worshiped in the area, as evidenced by the coins of the city.
The city was fortified with a strong wall, a large part of which (4km) survives till today. In Aptera we can see a sanctuary of the 5-4th century BC, huge Roman vaulted cisterns, a carved-in-ground theater, the "parliament" and a nearby necropolis. The various findings include vases, coins, figurines, inscriptions and sculptures.
Aptera was famous for its keen archers who fought as mercenaries in various areas outside Crete, bringing wealth to their homeland. The introduction of the valuable silver by the returning mercenaries gave the city the ability to mint its own coins. The coins were elaborate and usually depicted the goddess Artemis, on one side, and on the other the city's founder King Apteras. Other types depicted Apollo or Hera and torch, bee or bow.