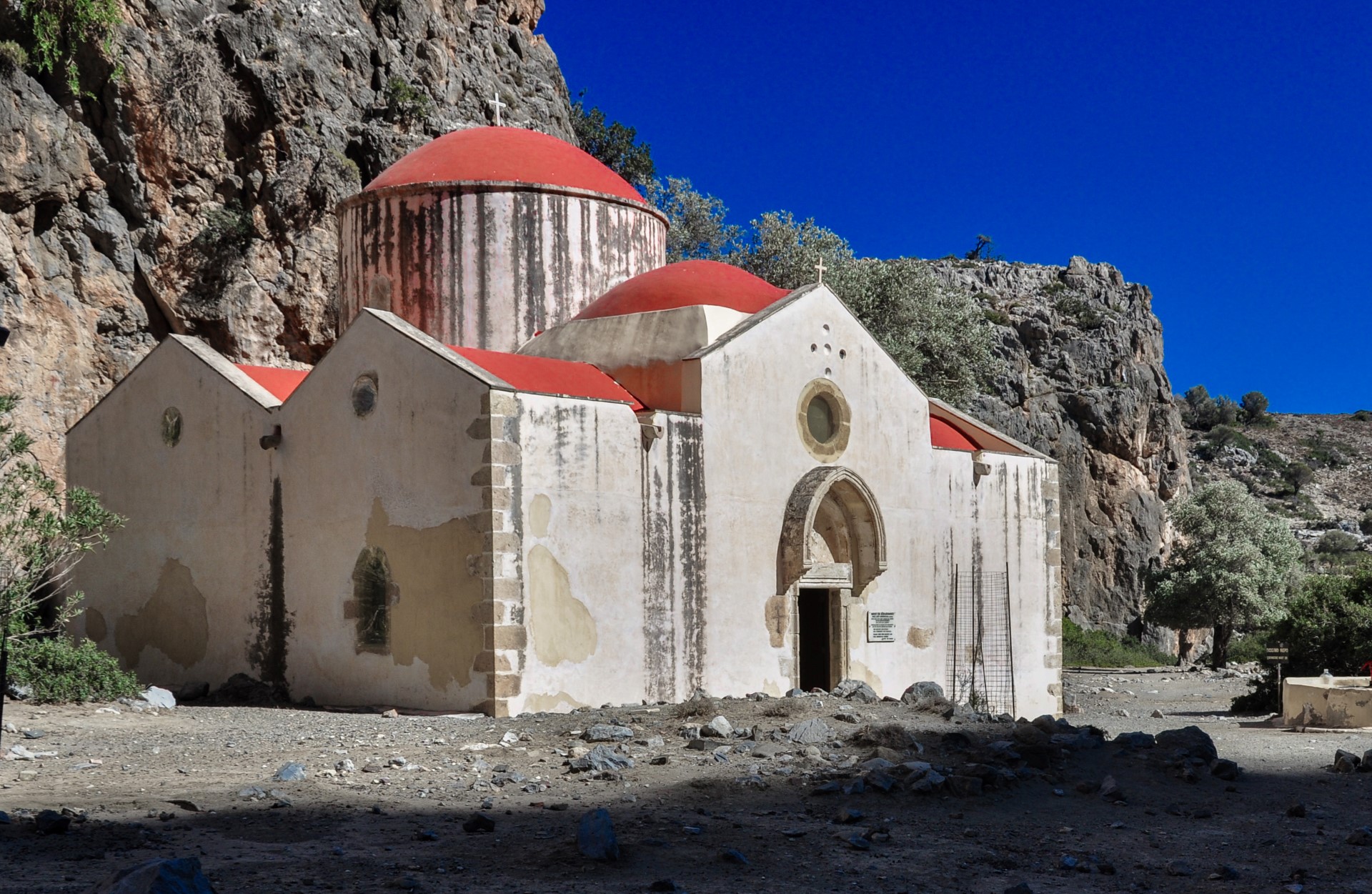 Inside the gorge Agiofarago.The beach of Agiofarago is located about 80km south of Heraklion city, at the exit of the Gorge Agiofarago. To get there you must either cross the gorge, by easy hiking of about 25-50', or catch a boat from Matala, Agia Galini, Kokkinos Pirgos or Kali Limenes. We definitely recommend the first option, as the route within the vertical walls of the gorge is breathtaking. On the way you will see the large caves were some hermits from Odigitria monastery still live and the chapel of St. Anthony with a small well with brackish water. The beach at the exit of the gorge is stunning, with fine pebbles and clear blue water, which is usually calm. West of the beach a beautiful rocky arch is formed, beneath which you can swim. Vertical cliffs surround the beach. Naturiism should be avoided here, as the wider area is one of the most religious places of Crete.
If you have your sneakers with you, in the afternoon you should climb the cliffs on the east and reach the top. The view from there is fantastic. If you walk southeast you will meet a hidden saltish lake, called Vourvoulitis, surrounded by vertical cliffs. It is an open sinkhole communicating with the open sea by an undersea passage. You can descend to the lake, but it's extremely dangerous.
If you want to get here from Heraklion, you should drive the road to Sivas village and then to Odigitria Monastery. From Odigitria you should take the dirt track heading to church of Saint Anthony (the road on the right hand heads to Vathi)  After 4km you have to turn right (there is a road sign to Agiofarago) and continue till you reach no end, in a small plateau used for parking. Do not leave your car under any tree for shade if you don't want to see it ruined by goats, that get on the car roof to eat leafs from the tree. Then walk through the gorge for half an hour until you reach the sea. On the way to the beach, you'll meet the small church of Saint Anthony and the cave of Goumenospilios. If you come by boat, you can visit the rocky islet just opposite Agiofarago, that is called Papadoplaka  with some small ponds with clear sea salt, usually gathered by the locals.
Boat service from Kali Limenes: southcreteride.com, +30 6987171945