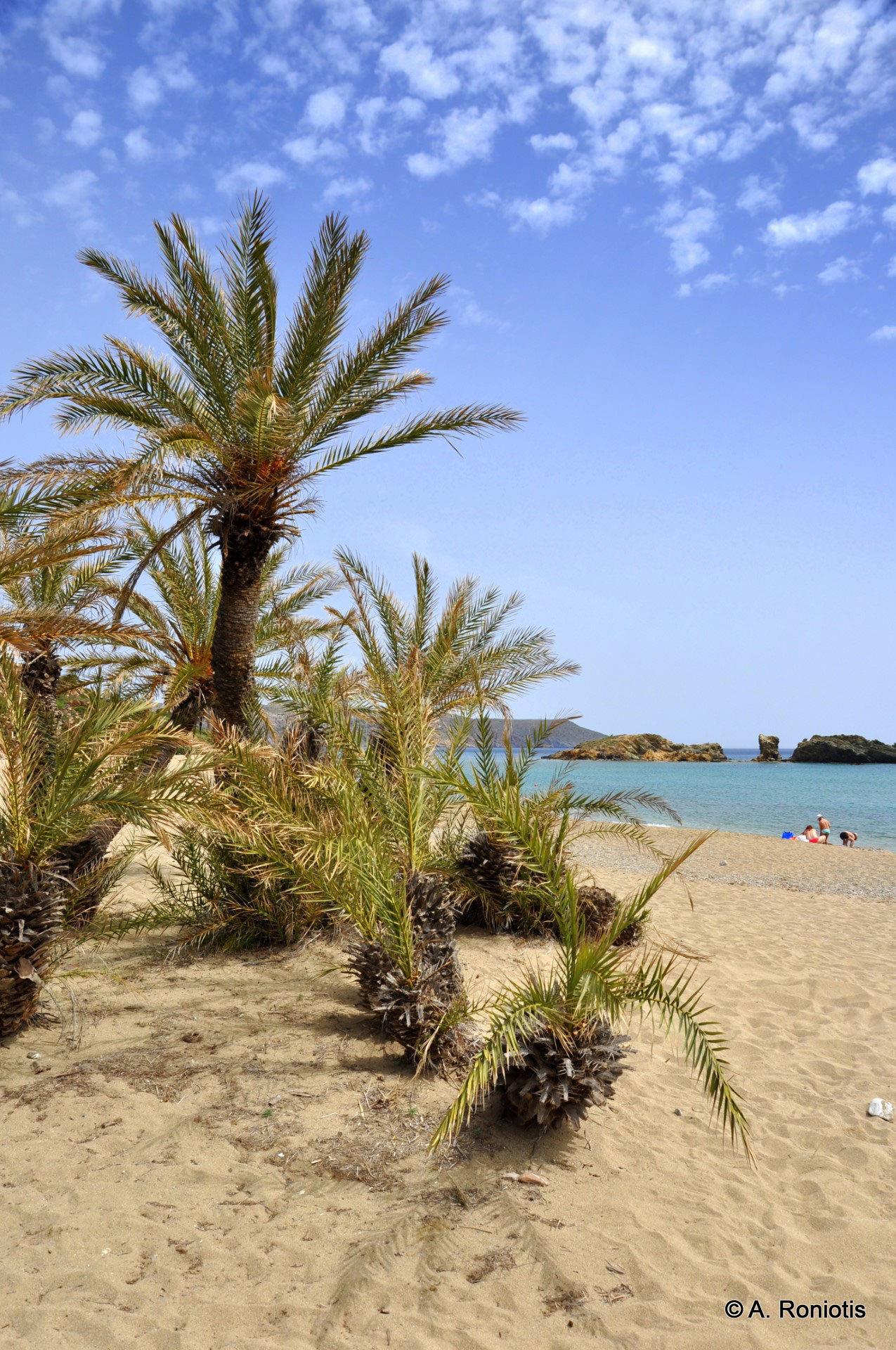 The Pheonix theophrasti, the Cretan Date PalmVai is located 94km east of Agios Nikolaos and 24km east of Sitia. It is the most famous beach in east Crete, as its main feature is the large palm grove with the Cretan Date Palm (Phoenix theophrasti). Its name derives from the word vai, meaning palm in Greek. The palm grove is the largest in Europe with approximately 5000 trees, while there are smaller colonies in other parts of Crete and in Southwest Turkey. According to the legend, the trees have grown from discarded date stones thrown into the sea by Saracen pirates. However, the palm grove is more than 2000 years old and the pirates are more recent. Thus this hypothesis has changed and the Saracens have been replaced with Phoenicians, that governed the Mediterranean Sea 20 centuries ago.
The heavenly palm grove is planted in a wide valley watered by the local river for centuries. An exotic sandy beach with whitish sand is formed near the shore, backed by the edenic palm forest, reminding of African and Caribbean seascapes. The entire region is owned by the powerful Toplou Monastery, which is the largest landowner in eastern Crete. The 15th-century monastery is built like a fortress, and hosts a great collection of Byzantine icons.
Vai was totally unknown until the early 1970s, when a popular commercial for the Bounty chocolate with coconut was filmed here, using the magical background of palm trees. In the advert, coconuts were falling from trees, however Vai palms produce dates. Consequently coconuts had to be falsely hung to create the right impression. The ad made this unknown earthly paradise renowned throughout the world. Thus, hundreds of hippies started to stay here on their holidays. In the 1980s, when hippism faded out, Vai was invaded by backpackers and rapidly degenerated into a rubbish-strewn campground. The palm grove was consequently fenced off and proclaimed a conservation area, being open to public only during the day light.
The beach has whitish sand and flat turquoise waters. In a few places, there are slippery smooth rocks, while on the opposite there are small islets that beautify the landscape. The beach is slightly organized (whatever the protection scheme allows) with umbrellas, showers, water sports and a canteen. The closest rooms to let are located outside the protected area (15'-25 'walk). If you want to stay isolated, there is a lovely sandy beach 5 minutes north of Vai, while another option is the idyllic Psili Ammos beach in the south.
If you come by car then you should leave it in the parking area. There are also buses running from Sitia and all travel agencies in Crete organize daily tours. The only drawback of Vai is that from the first moment you think that someone wants to dip into your pocket. Indeed, prices for parking, umbrellas and the canteen are too high. However, Vai is one of the most special beaches in Crete that surely deserve a visit.