Natural Park of Psiloritis
Psiloritis Natural Park consists of the Ida Range, the highest mount of Crete, and the northern coastal zone of central Crete. Within the territory of the Geopark added in 2001 in the list of UNESCO geoparks, the whole nappe pile of Crete, and the majority of the rock types of the island are presented in excellent outcrops and sections. Big faults with excellent and imposing fault surfaces, fossil sites, caves, impressive gorges and plateaus hosting many endemic species of the island, unique fold associations and geomorphologic structures are feeding for thousands of years the culture of local people.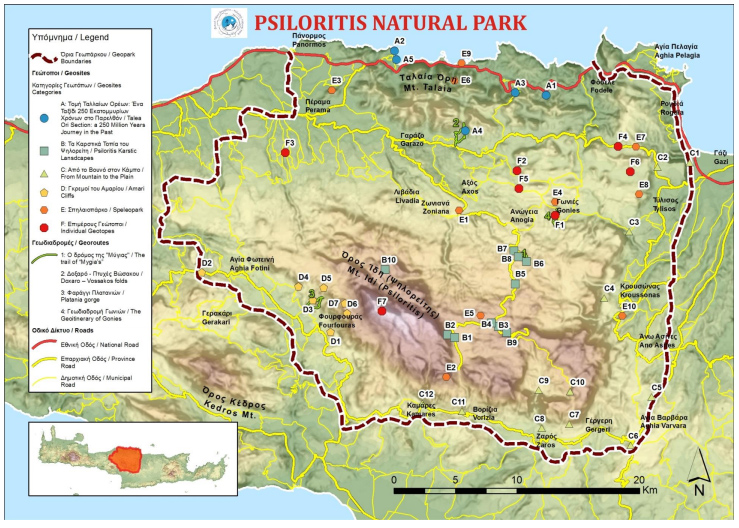 Geology
The great variety of Earth processes that have formed Psiloritis Mountains, the fascinating geology, the exceptional natural environment and the vibrant culture and traditions of its people are all facets in the character of the Psiloritis Global Geopark. The Global Geopark is characterized by its superb and outstanding geology reflected by the variety of rock formations that comprise all rock types of Crete in a series of sheets. These are exposed in a number of excellent outcrops and cross–sections which provide an insight into Earth's mountain-building processes. Some of its spectacular natural monuments include the Permian fossilized corals and bivalves, the impressive "Vossakos" folds, the "Chonos" karstic formations, the breath-taking caves and the deep gorges of the mountainous area, as well as the ophiolites, the remains of the ancient Tethys Ocean. All these geosites host an extraordinary diverse flora and fauna.
Geography
Psiloritis Global Geopark extends over an area of about 1200 km2 and it covers the central part of the island including the entire area of Mountain Idi (Psiloritis) which is the highest in Crete, reaching up to 2456 m. The surrounding Talean Mountains that extend till the northern coast and the valleys of Mylopotamos, Messara and Amari are all included within its boundaries. The Global Geopark is administratively allocated in two Regional Units, that of Rethimnon and Heraklion.