The Sanctuary of Hermes and Aphrodite is located in a beautiful location in the south of range Dikti, at an altitude of 1150m, next to the spring Krya Vrysi and about 5 km northeast of the village Kato Symi. It covers an area of 1.7 hectares, of which a part has been excavated. It is to this day the most important archaeological site in the province of Viannos. The sanctuary was founded around 2000 BC, like dozens of other Minoan Peak Sanctuaries in Eastern Crete, and worship continued until Roman times, making it one of the most timeless sanctuaries of Greek Antiquity. Hermes was worshipped from the 7th century BC, while Aphrodite was worshipped in the Hellenistic Times (around 330 BC). In the early Christian era, the place hosted a small chapel.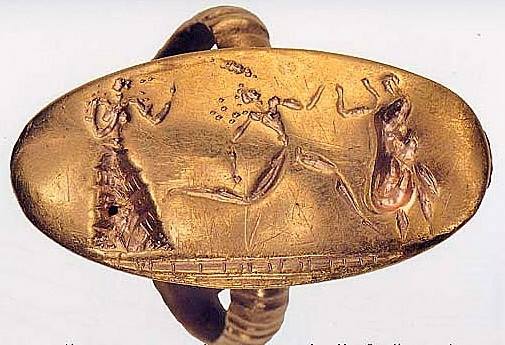 The runner's ring from SimiIts location is identified with the Ieron Oros (Holy Mountain), as according to Ptolemy it was located between the ancient Tsoutsouras (Inatos) and the ancient Ierapetra (Ierapytna). Due to its large importance, it is considered to have been an apple of discord for the various powerful cities in the region. Nevertheless, the respect that everyone had for the sanctuary is shown by the fact that it was never destroyed by vandalism, but only by natural causes.
Most archaeological findings dating back from the 11th century BC are traces of animal sacrifice and religious dinners, while in the ashes were found animal replicas, tubular utensils, plates with male figures carrying or leading animals, clay cups, three swords, a golden ring - a seal representing a runner and a hieroglyphic plate. Ritual vessels and utensils don't depict the usual female figures of the Minoans, so it has not been determined to which deities the sanctuary was dedicated in the Minoan times. After the 11th century BC., the vessels gave way to figurines whose main theme was the coming of age of the visitors. According to inscriptions found in the sanctuary, the patron saint of adulthood was Hermes Kedritis, who was worshiped alongside the goddess Aphrodite. The most important findings from the sanctuary are exhibited in the Archaeological Museum of Heraklion.
Excavations started in 1972 and continue from time to time. The place can be visited after communication with the guard. Near the sanctuary leads a forest dirt road that starts from Kato Symi and heads to the plateau Lapathos.