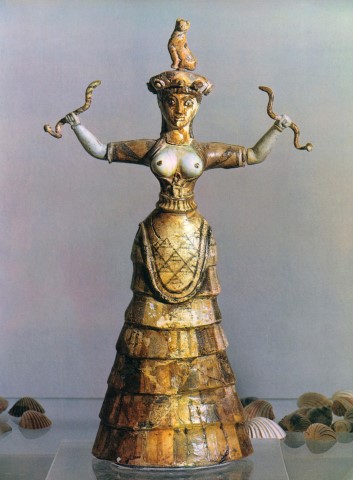 In Crete, snakes appear to have played an important ritual role in the Minoan period. Indeed, one of the most famous archaeological findings listed in Heraklion Museum is the statuette of the goddess of fertility, known as the Goddess of Snakes, who holds two snakes with both of her hands. Snakes were also used for treating diseases, from where the symbol of Asclepius comes, preserved in medicine even today.
Moreover, when Hercules arrived in Crete for the labor with the Bull of Crete, he wanted to pay honors to the birthplace of Zeus (Crete). Thus, he cleared the island from all hazardous animals. This beautiful ancient tale explains why Crete has no harmful animal species (such as venomous snakes). However, snakes are widely falsely thought as the evil-doers, with the dark intent on poisoning us with their painful venom.
The snakes someone might meet in Crete is the Balkan whip snake, the dice snake, the cat snake and the leopard snake. Among them, only the cat snake has venom, but it is very weak and actually harmless.